After spending 2 days in Bangkok, the next stop of our Thailand trip is Chiang Mai. I think Chiang Mai was one of my favourite parts of this whole trip, its a quiet city nestled within the mountains and forests, so there is lots of green around. There are also so many different places to visit and things to do!
We found a driver who took around to all the sights throughout the 2 days we were in this city. Everything is about a 1 - 2 hour drive from the city centre of Chiang Mai, so we tried to squeeze in seeing as much as we possibly could! We went to the top of Doi Suthep Temple and visited some temples and viewpoints along the way up the mountain, explored the local markets, visited and ethical elephant sanctuary (where you don't ride the elephants, only feed them and walk WITH them), explored the sticky waterfalls and climbed many steps to get to Muang On Cave. I can't forget I also practically ate my weight in Papaya and Longang - the fruit is absolutely delicious and so cheap too!
You can watch the video of my time in Thailand below which includes behind the scenes of how I took some of the photos in this blog post. And please subscribe to my YouTube Channel if you haven't already! I upload new photography related videos every single Wednesday.
All photos are edited with:
Disposable Film Lightroom Preset (to accentuate those beautiful greens!)
Aspen Lightroom Preset! (for a more natural, clean edit)
Florence Lightroom Preset (for those few street photos!)
Breakfast at the airport.
These first bunch of photos are edited with my Aspen Lightroom Preset.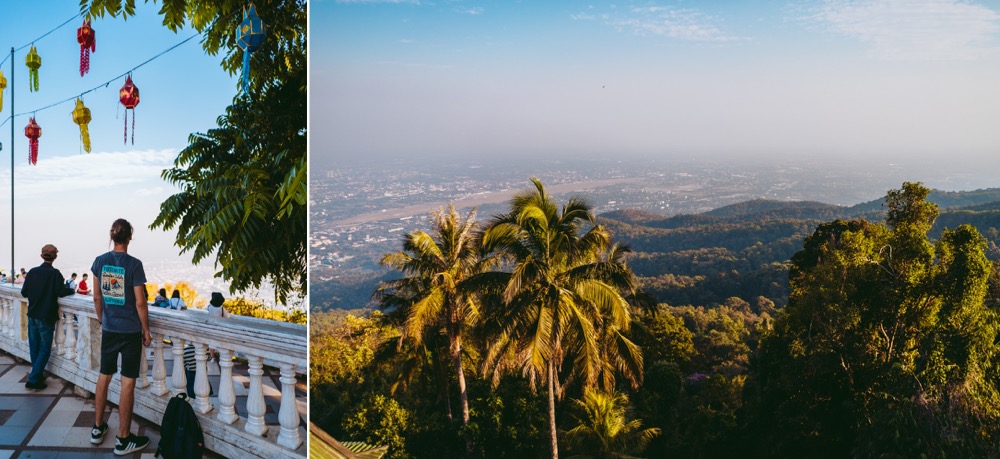 These next few photos are edited with my Florence Lightroom Preset - it has a more film-like vibe
Our big travelling group! Dan and I + our friends from Poland.
These photos onwards are edited with my Disposable Film Preset
Walking down to the sticky waterfalls
We climbed about 300 steps to get to the top and the views were beautiful!
This blog was put together with Narrative. I love using Narrative as part of my photoshoot culling process to see which images from a shoot I should edit and I also use it to easily & quickly be able to put together these blog posts with different layouts of images side by side. I'm really excited to say I've teamed up with Narrative and have a 15% discount code for you guys using the code julia15 or just clicking this link! You can download a free trial to test it out for 7 days too :)
All photos are edited with:
Disposable Film Lightroom Preset (to accentuate those beautiful greens!)
Aspen Lightroom Preset! (for a more natural, clean edit)
Florence Lightroom Preset (for those few street photos!)